Would You Like To Have One of the Nation's Leading Resume Writer & Job Search Consultant Help YOU Land Your Dream Job,
WITHOUT Costing You The Normal Thousands of Dollars for Private Coaching?
Tired of getting turned down for jobs and hearing you are "overqualified" or have "too much experience?"
Do you feel recruiters aren't giving you a chance because you are over 40?
Think ageism is blocking you from landing a job?
If so, we have a valuable 90+ points and instructions that will help you overcome the ageism objections that hiring managers have about hiring older professionals and executives:
Beat Ageism in Your Job Search –
Rock the Overqualified Question & Make Your Resume Ageless
By Lisa Rangel, Managing Director – Chameleon Resumes LLC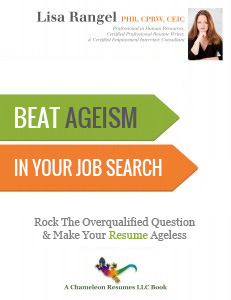 Recruiters and hiring managers sometimes can make sweeping generalizations about experienced candidates that have stemmed from either personal experiences or what they have read in the media. Either way, these ageism-based assumptions cause a formidable obstacle for experienced candidates to overcome in the job search process. To begin to conquer ageism, you really need to look at what is going on in the mind of the hiring managers that are interviewing you. Some common ageism assumptions about candidates over 40 are:
You will leave when you find a better job than the one they are offering.
Ultimately you will not be happy with a less important title compared to the titles you held in the past.
You may not be fully up-to-date on technology and they don't have time to train you.
And many more assumptions that we uncover in the book!
Is this happening to you? Then you need to invest in this Beat Ageism in Your Job Search Manual to help you land the right job for you. Only $97!  Get Your Copy Here.
Beat Ageism in Your Job Search will help you:
Create an ageless, branded resume, with the most contemporary resume format — the resume you need to land interviews
Model your resume using the real-world resume samples provided in the book
Develop strategies for actively conducting your job search for results, including implementing powerful social media strategies that help you rise above any age-based stereotypes
Rock the Overqualified Question to land the job by preparing yourself thoroughly for the interview process
Learn how to handle employment gaps, terminations, layoffs, career transitions and many other employment scenarios on your resume and during your interview
When you purchase Beat Ageism in Your Job Search for $97, you will also receive the following bonuses:
99 Job Search Tips from an Executive Recruiter eBook ($20 value).
How to Create a Branded Resume Recorded Webinar ($35 value)
Interview Confidently & Get Hired Webinar ($35 value)
Ready to purchase Beat Ageism in Your Job Search?
About the Author
Lisa Rangel, Managing Director of Chameleon Resumes, is a Certified Professional Resume Writer (CPRW), a former recruiter who has worked on ATSs (Applicant Tracking Systems) and a LinkedIn Job Search Expert (serving as a Group Moderator for LinkedIn's Premium Career Group). She and her team will arm you with an attention-grabbing resume and strategic job search plan designed to help you stand out among the competition.
Lisa has built a full-service job search consultancy specifically created to partner with executive candidates who want professional guidance from top resume, LinkedIn, job search and interview experts to navigate today's complex, high touch, technological marketplace. Lisa's unique combination of qualifications set her apart, making her a leader in the job search industry:
A Group Moderator of LinkedIn's Premium Career Group
13-year executive recruiter who worked on ATS systems in this decade
Certified Professional in Human Resources (PHR)
Certified Professional Resume Writer (CPRW)
Certified Employment Interview Consultant (CEIC)
Online Professional Networking Strategist (OPNS)
Microblogging Career Strategist (MCS)
Social Networking Career Strategist (SNCS)
Certified Job Search Strategist (CJSS)
With this unique combination of experiences and credentials, Lisa has identified an expert team of certified resume writers, interview coaches and job search consultants that can advise and guide you to take the right actions to advance your career faster than doing it on your own.
[qem]