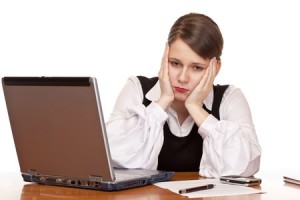 "Brownouts" – or loss of that fire in the belly – are sidelining star performers like yourself. Brownouts are so scary because they overtake you slowly and subtly. However, the effects can be catastrophic, both to your career and the results your company produces. That's why influential business media, ranging from the Harvard Business Review to Inc., are publishing articles about how to identify this syndrome and pull out of the slump.
With classic burnout, motivation collapses. That is obvious. Soon enough you figure you better resign or are terminated. Likely you can't even focus enough to put together a job search.
Continuum of disengagement
With brownouts, there is a continuum of disengagement.
That might start when visiting your company's store. You simply don't see the potential of staging special events such as fashion shows. Then you ignore that recommendation at a meeting back in headquarters.
A few weeks later, you don't accept an invitation to deliver a keynote speech on integrating retail channels.
During a plane trip you watch a movie, not browse industry journals.
Eventually, you are not excited when you wake up in the morning about what lies ahead at work. You used to play around with ideas for improving X or Y before you were even out of bed.
What's putting out that fire in the belly?
The first step to getting your mojo back is fingering what's triggering you to become less opportunistic. Here are the five major reasons:… Continue Reading…