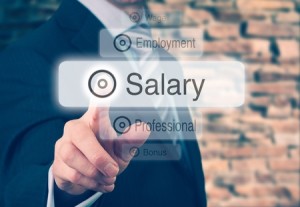 The January jobs report, with its 257,000 new jobs, confirmed that the recovery has traction.
However, you realize there is still stiff competition for executive level positions. In many fields there remains a talent glut. Of course, you want to do everything right in applying for jobs.
Now, online ads ask for salary numbers
That's why you become uneasy as more and more online help-wanted ads request you put in black and white your compensation expectation. In addition, they might require a salary history. .
This is the new reality. Recruiters are getting "down to business" fast. That's because they do not want to invest time vetting applicants whose compensation requirements turn out to be beyond their budgets. The hiring process is expensive.
On the one hand, you fear that your number will be beyond what the job pays. That means your application will be tossed. Or, on the other hand, you could underprice yourself. Research and experience show that it takes about 2 years to renegotiate compensation. During that time, you lose financial ground.
4 Options to Consider
Well, in this turbulent marketplace for talent there are no longer absolute right answers. However, there are 4 options which successful job applicants can leverage to navigate and negotiate the compensation issue.… Continue Reading…