Get All Three Books!!!
Invest in your career with the three books below (2 ebooks + 1 book) for $37:
The Interview Confidently eBook, The 101 Ways to Enhance Your Career Book and the Do It Yourself Branded Resume eBook for bundled investment of $37 with Free Shipping!
____________________________________________________________________________________________________________________
Interview Confidently, Get Hired & Don't Sell Out! - How to Land Your Next Job on Your Terms - $9.99
Invest in yourself to learn how to conduct yourself confidently on interviews to land your next role on your terms and to ensure your happiness at work. Order now and the ebook will be emailed to you within 24 hours of payment. Learn how to prepare properly by: - Researching yourself: Know what you need, what you want and what you don't want to help you define the job you want to pursue and accept - Effectively researching the company, interviewer, role and competitors to uncover inside scoops and essential corporate culture information to help you make the right decision for you - Having the right questions to ask and having the right answers their questions to reduce your anxiety and improve your performance - Understanding how to present your salary and compensation parameters and not sell yourself short - Accepting a job that you want on your terms to ensure you are happy in your next position
The Do-It-Yourself Branded Resume Kit  - $9.99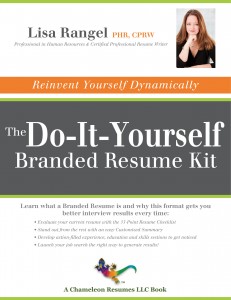 Get Your Do-It-Yourself Branded Resume Kit to evaluate and upgrade your resume for $9.99. Get all of the secrets and knowledge used by the experts at Chameleon Resumes at a fraction of the cost of a professional resume writer. Order your kit now and the ebook will be emailed to you within 24 hours of payment. - Learn why a Branded Resume gets better results every time. - Evaluate your current resume with the 35-point Resume Checklist and zero in on what you need to do to get your resume job search ready - Create a Branded Summary that gets you noticed and that is customizable for each application you make - Have a gap in your resume? Changing industries? Get the language you need to handle various career situations - Build your strongest case with Work, Education, Skills and other sections that highlight your assets and abilities - Use our results-tested samples as models for writing your successful Branded Resume
101 Great Ways to Enhance Your Career - $19.95 + s&h
Lisa and 100 other world leading career experts, such as Tory Johnson, Laura DeCarlo, Brian Tracy, and Charlotte Weeks, have each contributed a chapter on numerous career topics to give you the most effective and simple ways to immediately improve your career, in this book entitled "101 Great Ways to Enhance Your Career" by Michelle A. Riklan and David Riklan of Selfgrowth.com. Get proven techniques and strategies on resume writing, job searching, Linkedin, career strategy and interview preparation for $19.95—less than 20 cents per chapter! Order your copy now.

Written by 
Lisa Rangel, Executive Resume Writer
If you are interested in working with Lisa Rangel, 
an accomplished executive resume writer, social media profile writer and job search consultant
, to achieve the social media exposure and land the interviews you want, 
sign up for an exploratory call now
 and learn about the Chameleon Resumes services that can help you land your next role.
Posted:
---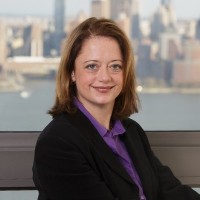 ---