Take Control of Your Job Search
Have you been struggling to get results with your resume or unsure how to find hidden executive job opportunities suitable for you?
We'll give you the tools to create a personalized job search strategy that will dramatically increase the number of interviews you land.
---
The 'GET HIRED FAST!' Success Package
This is our most popular offer: Get full access to all of the DIY Resources on this page, at one low price!
These resources will instruct you how to write an interview-producing resume and cover letter, develop your own job leads, and prepare you to ace your interviews, to land the right offer.
$297
---
The Interview-Generating Resume Package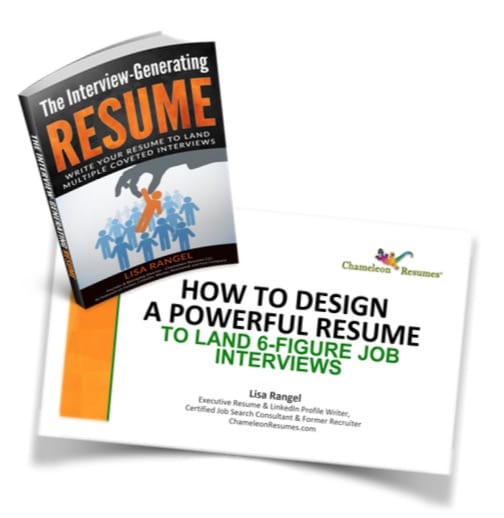 Did you know the average resume only gets 6 seconds of attention? Our The Interview-Generating Resume Package gives you the tools to significantly improve the design and overall impact of your resume. We've combined our e-books and video training so you can pass the 6 second test and generate interviews.
$47
Get Instant Access
The Interview Confidently Package
It's extremely critical to "wow" the interviewer the first time in this competitive environment. In this eBook and recorded webinar, resume and job search expert, Lisa Rangel of Chameleon Resumes, will give you concrete strategies to successfully navigate your next interview and land the offer.
$47
Get Instant Access
The LinkedIn Job Leads Package
Our LinkedIn Profile Package combines our Generate Job Leads Using LinkedIn eManual with our "How to Create Your LinkedIn Profile to Generate 6-Figure Job Interviews Faster" video training, so you can develop an effective LinkedIn profile that will land you more interviews.
$97
Get Instant Access
The Job Search Bundle
Tired of applying to 100's job board posts and not receiving interview calls? Unsure what the hidden job market is and how to tap into it? I pull from my 13-years of recruiting experience and insight as a hired LinkedIn Premium Career Group Moderator to share with you actionable tactics to find and land your next job.
$97
Get Instant Access
7 Job Landing Steps to Find Your Ideal Job [eManual]
This eManual covers how to utilize effective search and target list building techniques to kickstart your job search, as well as, define your career path and pursuits. Further reinforce your career communication documents with even more samples and examples to customize your resume for different jobs.
$77
Get Instant Access
Generate Job Leads Using LinkedIn [eManual]
This in-depth resource is designed to help you optimize your contacts to identify those never-get-posted-because-the-job-is-awesome-and-easy-to-fill opportunities. Learn how to use the Search Feature, Groups and many other features and tactics to help you generate job leads and increase your visibility to hiring managers.
$77
Get Instant Access
The Most In-depth Way To Prepare for an Interview [Recorded Training]
Learn what to do to prepare before the interview – we'll show you how to research the company, interviewer and job, and use that information to your advantage. Successfully answer both common and uncommon interview questions. Understand how to present yourself and your achievements to negotiate the highest salary you can!
$37
Get Instant Access
How to Write Your Resume to Land Interviews [Recorded Training]
Get step-by-step instruction on how to construct your Resume Summary, Employment and Education/Skills sections and how to utilize Keyword Optimization, so recruiters will easily find you and call you for the interview. Know how to format unique employment scenarios: employment gaps, multiple temporary jobs, etc.
$37
Get Instant Access
How to Double, Even Triple, Your Job Leads Using LinkedIn [Recorded Training]
Never be dependent on third-party recruiters and job boards again! Learn how to find the hidden job market and generate your own job leads with proven tactics taught by Lisa Rangel in this recorded Webinar.
$37
Get Instant Access
8 Job Landing Mistakes [Recorded Training]
In this recorded training , I pull from my 13-years of recruiting experience and insight as a hired LinkedIn Premium Career Group Moderator to share with you the errors I observe executive and professional job seekers make over and over again that kill their job search prospects. Learn how to avoid these mistakes forever and get results.
$37
Get Instant Access
Land an Accountant Job & Advance Your Accounting Career [eManual]
Learn from an experienced accounting and finance recruiter how to rise above the competition to land your next accountant position, whether it is with a top CPA firm or corporate accounting department. Learn the job-landing tactics that both experienced and entry-level accountants can use to land their next job faster and easier.
$97
Get Instant Access
Beat Ageism & Get Hired Package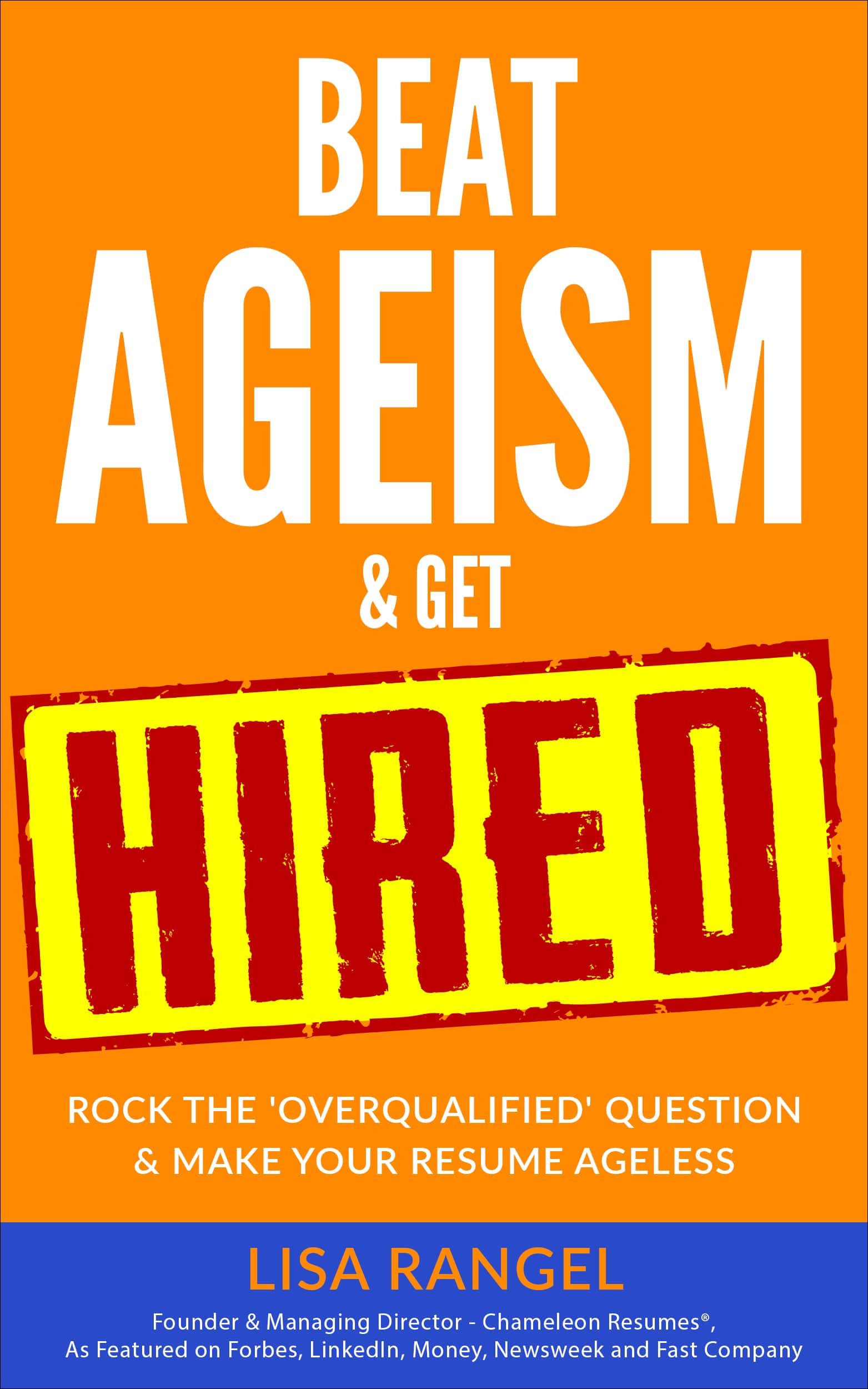 Think ageism is blocking you from landing a job? If so, we have a valuable 90+ points and instructions that will help you overcome the ageism objections that hiring managers have about hiring older professionals and executives in this valuable eBook and bonus materials.
$197
Get Instant Access
Interview Confidently & Get Hired [eBook]
Know the right questions to ask and have the right answers to their questions to reduce your anxiety and improve your performance. Discover the best way to learn about the company, interviewer, role and competitors to uncover inside scoops and essential corporate culture information to help you successfully navigate the interview.
$9.99
Get Instant Access
Interview-Generating Resume [eBook]
Written by Lisa Rangel, a 13-year recruiter and LinkedIn Premium Career Group Moderator, to guide you to form your professional brand and your unique value proposition, which you will incorporate into your resume and cover letters to capture the eye of the hiring manager who will be compelled to call you for the desired interview.
$9.99
Get Instant Access
FAT STACKS: Negotiate a Top Dollar Salary & Compensation Package [eBook]
This dollar-maxing guide works for getting the highest 5-figure and 6-figure salary you can and to ensure you are not leaving any money on the table. Get every penny you deserve and the extra perks that make life grand.
$27
Get Instant Access
Three Easy-Plug-In-Info Resumes [Templates]
Once you learn how to best write your wins for your resume, choose from three interview landing resume layouts to enter in your accomplishments to build your own achievement-based resume to start landing interviews. We take the layout worry for you and all you have to do is choose and plug in your information.
$47
Get Instant Access
Writing Effective Interview Thank You Letters [Letters, Notes and eNotes Samples]
Choose from several thank you note templates and use proposed language to create your own custom thank you notes for after your interviews. No longer stress about what to say or how long the letter should be. Our point-by-points and samples will make it easy for you to write your own personalized document to seal the deal.
$27
Get Instant Access
The Job Landing Mindset
To conduct a successful job search, you need to be able to: See the possibility in anything. Focus more on what's working, and less on what's not working. Move through fear and doubt, to remain diligent and consistent during your job search. Are you ready to get lifted out of the mental quicksand?
$47
Get Instant Access