Here is an example of how I think differently than other resume writers.
In a Resume Writer group I belong to on LinkedIn, a fellow writer, who I won't name here, posted the following question:
"I have been writing resumes for 15+ years and I have always made the person's name on a resume bigger than the summary title. However, I have been recently told by another writer that the title should be larger than the name. What do you think?"
And about 17 writers responded that they made the candidate name bigger than the target title right under the person's name.
And I think that's wrong.
I make the target title slightly bigger than the candidate name. The writers said they made the name bigger so the hiring manager could always find the name and know they are on the right resume.
Except on first glance, the name doesn't really matter.
As a hiring manager, I wanted to know was this resume I am reading right for the job I am recruiting for.
I recruited for 13 years and I always felt a resume with a bigger title made me make an assessment faster – if it was the right candidate.
The name had nothing to do with the assessment. In fact, when I saw resumes that had the name bigger, it subliminally sent a message to me of a big ego – big name = big ego in my mind.
Maybe that's an inaccurate or unfair assumption, but a bigger name on a resume told me you wanted to bring attention to you. Versus a bigger title that told me you wanted to see if your skills were right for a particular job I may have.
Just one recruiter's opinion.
So I mainly write resumes where the title is bigger.
And for fun I looked at the background of the resume writers who responded to that post. None had recruiting experience.
All were writers that got into resume writing. So take that for what it's worth.
Want a recruiter's perspective on how to write and layout your resume?
Attend my No-Cost "How to Design a Powerful Resume to Land Six-Figure Interviews and Get the Offer!" Webinar training session & I'll show you why your resume is being overlooked and ignored… and how to correct the mistakes you're making to stand out from the pack instantly and win the attention of recruiters and hiring managers.
Reserve your spot here -> https://chameleonresumes.com/execrestraining
Be well!
Lisa
Lisa Rangel – Executive Resume Writing Services
Posted:
---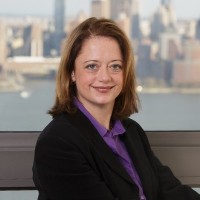 Lisa Rangel and the Chameleon Resumes team have helped over 6,000 executives and senior professionals land the 6-figure positions they deserve.
If you want to work with an elite team of former Fortune 500 recruiters, executive resume writers, and job landing experts so you can win the attention of hiring managers and land more lucrative interviews, sign up for an exploratory call so we can discuss how our 4-stage META Job Landing SystemTM can help you land your next 6-figure position.
---