Would You Like To Have One of the Nation's Leading Resume Writer & Job Search Consultants
Help YOU Land Your Dream Job, WITHOUT Costing You Thousands?
Are you tired of getting turned down for accountant jobs?
Repeatedly hearing that you are "not the right fit for the accounting job?"
Do you feel that the recruiter isn't giving you a chance to demonstrate your skills?
 Is the accounting job search process wearing you down?
 Do you believe that if the employer can only see how talented of an accountant you are, that the company would surely want to hire you? If so, we have a valuable home study course  developed by Lisa Rangel, leading professional resume writer and job search consultant with 13 years of accounting and finance recruiting experience, with over 100 tactics to employ immediately that will help you overcome the job search obstacles you are experiencing and land that coveted accounting position you want:
Land an Accountant Job and Advance Your Accounting Career Manual –
Rock Interview Questions & Make Your Resume Stand Out
By Lisa Rangel, Managing Director
Chameleon Resumes LLC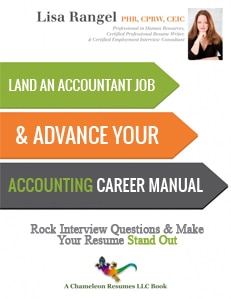 No one with Lisa's specific accounting recruitment knowledge and certified professional resume writing expertise has compiled this type of custom instructions before to support experienced and entry-level accountants to land their next job faster and easier. This is normally the type of instruction received from an expensive job search coach.
Learn from an experienced accounting and finance recruiter how to rise above the competition to land your next accountantposition, whether it is with a top CPA firm or corporate accounting department. Recruiters and hiring managers seek out candidates that demonstrate superior technical abilities, know how to market themselves on their resume and discuss their achievements on an interview, regardless of the level of position you seek. Hiring managers can make sweeping generalizations about accounting and finance candidates that have stemmed from either personal experiences or through their own professional training. Do you feel you have experienced these situations? It causes a formidable obstacle for experienced candidates to overcome in the job search process. To put yourself on the path to landing your next accounting role, you really need to look at what is going on in the mind of the hiring mangers that are interviewing you. Some common assumptions about accounting and finance professionals are:
You will only want to do accounting work and do not want to interface with non-accounting departments
Most likely, you are an introvert who will have a hard time communicating your successes and strengths on an interview
You may be unable to demonstrate your social skills and influencing abilities that can be used in your next position to affect results
And many more obstacles that we tackle in the book!
Is this happening to you? Then you need to invest in this Land An Accountant Job and Advance Your Accounting Career Manual to help you land the right job for you.  
The Land An Accountant Job and Advance Your Accounting Career Manual will help you:
Create a Branded Accounting Resume, the most contemporary resume format and the one you need to advance your accounting career
Model your accountant resume using the real-world accounting resume samples provided in this thorough home study course
Develop strategies for actively conducting your accounting job search for results, including implementing powerful social media strategies
Rock behavioral and situational interview questions to land the job by preparing yourself thoroughly for the interview process
Learn how to handle employment gaps, terminations, layoffs, career transitions and many other employment scenarios on your resume and during your interview
When you purchase the Land An Accountant Job and Advance Your Accounting Career Manual, you will also receive the following bonuses:
99 Job Search Tips from an Executive Recruiter eBook (Additional $20 value).
– Uncover actionable job search tactics not used by MOST job seekers. Use these tactics and be seen as a unique candidate. To be different, you must do different tactics than the rest of the crowd. Learn these tactics and set yourself apart.
How to Create a Branded Resume Recorded Webinar (Additional $35 value)
– Receive simple step-by-step visual instructions on how to create a resume that will attract employers and land you interviews. Learn how to design an achievement-based document that employers want to see from today's top talent.
Interview Confidently & Get Hired Webinar (Additional $35 value)
– Discover the inside scoop on interviewing effectively from a professional who has trained recruiters, helped top companies find talent and hired accountants for her clients. Use the BEST tools to prepare for the interview–including one tool most job seekers do not use!
Ready to purchase the Land An Accounting Job and Advance Your Career Manual? 
About the Author
Lisa Rangel, Managing Director of Chameleon Resumes, is a Certified Professional Resume Writer (CPRW), a former accounting and finance recruiter who has worked on ATSs (Applicant Tracking Systems) and a LinkedIn Job Search Expert (serving as a Group Moderator for LinkedIn's Premium Career Group). She and her team will arm you with an attention-grabbing resume and strategic job search plan designed to help you stand out among the competition.
Lisa has built a full-service job search consultancy specifically created to partner with executive candidates who want professional guidance from top resume, LinkedIn, job search and interview experts to navigate today's complex, high touch, technological marketplace. Lisa's unique combination of qualifications set her apart, making her a leader in the job search industry:
A Group Moderator of LinkedIn's Premium Career Group
13-year accounting and finance recruiter who worked on ATS systems in this decade
Certified Professional in Human Resources (PHR)
Certified Professional Resume Writer (CPRW)
Certified Employment Interview Consultant (CEIC)
Online Professional Networking Strategist (OPNS)
Microblogging Career Strategist (MCS)
Social Networking Career Strategist (SNCS)
Certified Job Search Strategist (CJSS)
With this unique combination of experiences and credentials, Lisa has identified an expert team of certified resume writers, interview coaches and job search consultants that can advise and guide you to take the right actions to advance your career faster than doing it on your own.