Writing Your CIO Resume: The Ultimate Guide
Download our CIO resume sample here:
C-level job landing has never been so treacherous. Not only are you competing inside a very small pool of top-tier roles, you now have to prove your leadership level can handle any future economic disturbances. In fact, your crisis management skills are quickly becoming 2022's resume must-have for C-Suite job seekers.  If your CIO resume has not been updated within the last 12 months and does not speak to your agile leadership approach or your ability to lead inside a crisis, your resume will not make the cut. It's time to update your resume so you present as the most cutting-edge and relevant candidate for the role. If you want your CIO resume to stand out in a crowd and highlight your powerful 2022 (and beyond) leadership branding, you need to do the following two things:
1. Enter your email above to download our CIO resume sample.
This real-world executive resume sample has landed roles for Chameleon Resumes clients inside executive and professional level positions with prestigious niche companies, boutique start-up firms, and Fortune 500 organizations. This resume template is 2021 ready and will help you outline the relevant skills needed in today's ever-changing corporate landscape. This CIO resume sample is written by a professional executive resume writer who focuses on achievement-driven language and data-specific leadership accomplishments. Using this template you will be able to write a professional resume using a contemporary design that is appealing to today's corporate and search firm recruiters and which also works with the ATS many applicants have to navigate.
2. Keep reading to learn that 8 ways you can supercharge your resume.
With over 13 years of recruiting experience, Lisa Rangel, Owner of Chameleon Resumes, provides this step-by-step guide to producing a CIO resume that will showcase your powerful career branding, generate quality interviews, and position you as the most valuable candidate for the job. 
8 Ways To Create a CIO Resume That Generates Interviews
Most high-performing CIO's have not kept up with their executive resumes because, well, they are too busy being high-performing leaders. As a result, their current resumes still reflect their years as "tactical practitioners" rather than their track records as leading IT executives.
Many CIO resumes read like a grocery list of "tasks done" rather than showcasing their incredible achievements and unique knowledge base. Oftentimes, the resume takes the reader on a stroll down memory lane instead of positioning them for a future role.
Since 2020, an area of focus that is quickly becoming a critical C-level resume addition is your agile leadership approach and how you used it during the pandemic. This new information is one of many things your 2022 resume should contain.
As a CIO, or a rising information technology (IT) executive, crafting an interview-generating executive resume is still one of the most important steps for communicating your skills, promoting your achievements, confirming your abilities to work with technical and non-technical leadership and, ultimately, demonstrating how you are the best candidate for a coveted CIO role.
The key difference in creating an effective CIO executive resume versus a professional-level IT resume is the integration of human capital management skills and fiscal acumen with your technical qualifications throughout. An example of how this is done is outlined in the CIO resume sample above.
Here is the bottom line: As an IT executive, you need to demonstrate how you have utilized human and technological resources to improve corporate profitability. Period.
Here are eight ways to achieve this goal:
1. Shift from tactical implementations to strategic results.
Showcase your corporate contributions to top line, expense line items, workflow productivity and the bottom line.
Graduate from citing specific tactical skills and responsibilities common in a staff-level or middle management information technology resume to outlining initiatives where you have added value, and projects that you have led to achieve results. The key with a CIO resume, as with all C-level resumes is to include the long-range effects of your work in addition to the short-term results. You want to show how you can strategize on the big picture and cause movement with what is directly in front of you.
2. Promote systems transformations utilizing technology to bring workflow efficiencies and revenue maximization.
CIOs and technological leaders now are involved in every department of an organization to bring about system efficiencies and performance maximization. Demonstrate how technological implementations resulted in systemic transformation of sales processes, supply chain improvements, human capital productivity and quality of life, marketing channels and fiscal management. Showing how you understand how technology can help others leaders meet and exceed corporate objectives that pertain to their area will show you are the candidate to choose over competitors.
3. Show how you attract high quality talent and lead teams.
Effective IT executives not only manage technology, but they manage people to manage technology to bring results. Successful CIO's negotiate deals, influence key decision-makers, nurture vendor relationships, and attract and develop key talent. Highlight how your skills in team-building, communication and influence have contributed to your success.
4. Emphasize your 'soft skills' to develop high-performing teams compassionately.
Don't lose readers in a list of systems, software, hardware and applications in which you have expertise. Your CIO executive resume will be read by technical and non-technical types and you must cater to both audiences. Highlight how your soft skills have enabled you to manage both technology and people to drive workflow productivity, revenues and additional profits for the business. Showcasing how you manage teams during economic slowdowns and surges with technological efficiency and managing teams compassionately will set you apart from most senior-level tech leaders.
5. Choose the relevant wins when communicating to prospective employers.
Talking about your biggest achievement is not always the best course of action Reframing your win to showcase your accomplishment in a way that is digestible for the prospective employer is always preferred. If you saved $20 million dollars on one initiative at a $1 billion dollar employer, but now you are applying to a $200 million firm, you may be perceived as being overqualified. Either choose achievements that are within the fiscal scope of the prospective company, or consider using percentages to outline your accomplishments. Choosing relevant accomplishments, and not just your proudest moment, that pertain to your target job is key.
6. Use universal language to highlight achievements and downplay technical jargon.
Outline your technical and human capital achievements in universal language and not just technical jargon. Appeal to the many types of audiences by whom your resume will be read. You may be most comfortable speaking in acronyms or technical vernacular, but not all CEO's and executive hiring teams are aware of tech-speak. I suggest that you speak about technology in approachable and achievement-based terms to be understood by many types of executive management. This will demonstrate your ability to work with non-technical stakeholders.
7. Be what they want, but never lose yourself in your resume.
The content in your resume, social media profiles and communications should be congruent with your personality, beliefs and work style, while still meeting the needs of the prospective employer. Ensure your resume will be in line with the person who shows up for the interview - You. Always be who you are on paper, online and in person.
8. Practice what you preach.
IT recruiters tell me that nothing irks them more than an IT executive that does not include website or a LinkedIn profile on their resume. I am told that a CIO or upcoming IT Executive that has very little to no presence on the internet, or worse, a poor presence on the web, demonstrates that either they are not a lover of technology or that they are a poor promoter of themselves.   The resume of a successful Chief Information Officer must not only demonstrate that you know the why and how behind the technology, but it also must tell a story on how you have communicated effectively with managers, lenders, shareholders, vendors and others key partners.   Frankly, the best CIO's will show how they identify and implement current technology that breeds financial benefits that improves the company's position within its marketplace. Strategically, design and implement business plans and inspire leadership within the financial departments and with the executive management team to solidify its company's future.
Learn How Chameleon Resumes Can Help You Land Your Next Position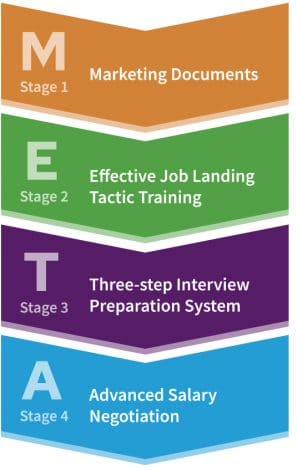 Powered by our team of top-tier resume writers and executive job landing experts, Chameleon Resumes will help you land your next CIO role by using our proven 4-stage META Job Landing SystemTM. This proven job landing system, which draws from our experience as corporate recruiters, executive search firm recruiters, and Fortune 500 HR consultants, organizes your executive job search into focused stages. Master the techniques behind presenting powerful documents, conducting impactful outreach, delivering unforgettable interviews, and confidently negotiating an incredible offer.
"One of my go-to resources to refer to legal industry… her document development process brings out the best, relevant accomplishments that impress desirable employers…"
Lisa and her team are one of my go-to resources to refer to legal industry and other executives who need to put together a suite of modern career documents and obtain comprehensive training on how to land a great, senior-level job. As a seasoned executive search consultant, I know her document development process and job search consulting, which brings out the best, relevant accomplishments that impress desirable employers, can help lead to getting hired.
Most importantly, I have experienced Chameleon's work first hand as a senior-level client myself with regard to the development of my own resume. I highly recommend Lisa and her Chameleon team.
Kimberly McClanahan
Executive Director at Valley Community Services Board
"I listened to one of the webinars and decided to invest in the program. It was a great decision… happily working again in my chosen field at the CEO level as before."
Not having been job searching for many years and certainly not in the age of social media and LinkedIn, I was somewhat overwhelmed by the prospect. I listened to one of Lisa's webinars and decided to invest in the program. It was a great decision! Her team was amazing. I had always had vitas so had no idea how to write a resume and certainly no idea how to stand out on LinkedIn even though I had a brief profile.
The investment was worth the money. I am now happily working again in my chosen field at the CEO level as before. Great team of folks! Very caring and professional as well. Thanks to the team at Chameleon.
Michel Korenian
Representative Director & President at Boehringer Ingelheim Animal Health Japan
"Lisa and her team worked with me during a very difficult job search during the Covid-19 pandemic… [they] will continue to coach and motivate you until you find the dream job you deserve."
Lisa and her team worked with me during a very difficult job search during the Covid-19 pandemic. They help me develop a totally new resume, cover letter, LinkedIn profile and overall strategy to attract the best companies possible. I had many great coaching sessions to understand my background in detail and found creative way to relate it back to the companies I was interested in working for.
But what I liked it the most is that Lisa and her team will continue to coach and motivate you until you find the dream job you deserve. When you are in a challenging situation and most of the time losing confidence, you never feel alone. "Definitively recommended."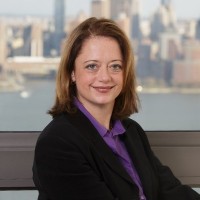 Lisa Rangel and The Chameleon Team are the only executive resume writing, LinkedIn profile development, and job landing consultancy who has been hired by LinkedIn and recognized by Forbes. Our 4-Stage META Job Landing System stems from decades of corporate and executive recruiting experience to position you to land your next 6-figure role faster.