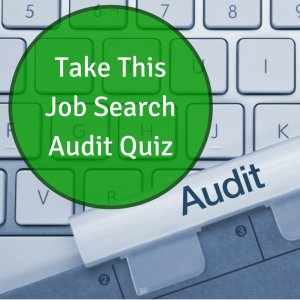 JOB SEARCH AUDIT QUIZ

The job search is not yielding what you have hoped up to this point. You feel stale, uninspired and ineffective. Or maybe you are happy with your initial results, but now the activity has weaned a bit and you want to step up your game? Below is a short list of questions to quickly assess the quality of the quantity of your job search activities to help you determine (1) Am I doing the right activities? and (2) Am I doing enough of the right activities? Take this job search audit quiz now and be honest with yourself…it will help you identify the activities that will get your results and ensure you drop the activities that are dragging you down: Here we go:
How many hours are you spending on job boards?
How much time are you spending tweaking your resumes and cover letters?
How much time are you spending researching companies to apply to?
How many companies do you add/modify/delete from your target list each month?
How many hiring managers, line managers or knowledge resources are you speaking to each week?
How many outbound emails are you sending to targeted decision makers or knowledge sources each week?
What does it mean?