Lisa Rangel Reviews: Successful Client LinkedIn Recommendations
Here is a small sample of successful client recommendations left on my LinkedIn profile.
If you'd like to see more real-life, valid, and verifiable reviews of my executive resume writing services, written by actual clients who landed jobs, please click here or visit my LinkedIn profile.
"If there is any person you need advice from on seeking a job or re-entering that labour market that is often tough, you should consult Lisa Rangel.
I attended her sessions on numerous occasions, and every time I took away valuable information and tips that re-shaped my approach and thinking towards job searching.
Lisa's Ninja advise on how to craft a resume that stands out from the rest was always spot-on and outstanding in many ways. Her insights, experience and sea of knowledge is eye-opening and transformational.
Lisa's outstanding and exceptional tips on how to present yourself and answer interview questions in a way that sets you apart from the rest of an overly crowded pack is invaluable. As Lisa says, searching for a job is full-time work on its own. Trust me, I have been there. Having someone like Lisa guide you makes the challenges worthwhile and an exciting journey as you inch towards that dream job.
You want to succeed in this tough world of job searching, Lisa is the one to have in your corner to navigate you through that path. I would not hesitate for a moment to recommend anyone to Lisa for advice on a quest for a job search. You have everything to gain and nothing to lose.
What are you waiting for? Reach out to Lisa Rangel, she has got your back!" – Israel Mbobela
"Lisa and her team worked with me during a very difficult job search during the Covid-19 pandemic. They help me develop a totally new resume, cover letter, LinkedIn profile and overall strategy to attract the best companies possible. I had many great coaching sessions to understand my background in detail and found creative way to relate it back to the companies I was interested in working for. But what I liked it the most is that Lisa and her team will continue to coach and motivate you until you find the dream job you deserve. When you are in a challenging situation and most of the time losing confidence, you never feel alone. Definitively recommended." – Michael Korenian
"Lisa, I want to thank you and your staff who helped me with my resume and LinkedIn profiles. I appreciate the insightful critiques and the concrete changes I could make for a more effective resume and LinkedIn profile. I'd recommend Lisa anytime." – Arvind Swamy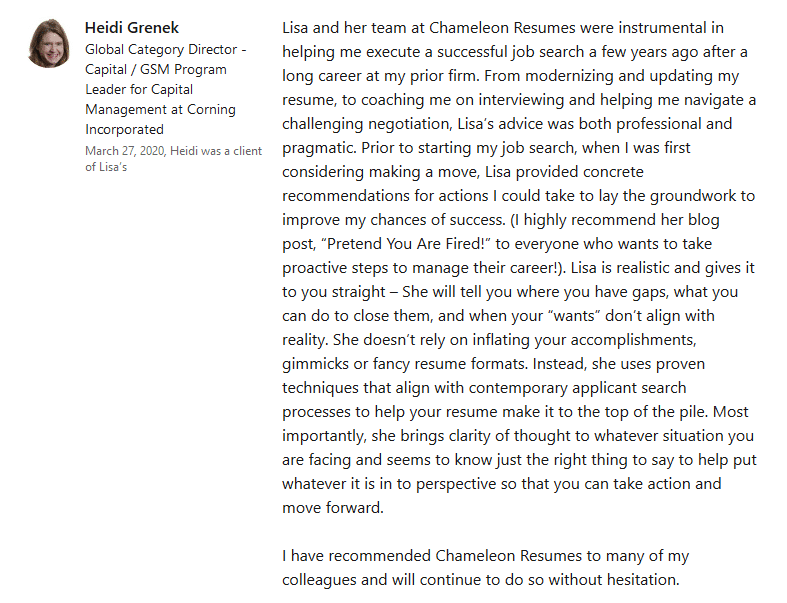 "Lisa and her team at Chameleon Resumes were instrumental in helping me execute a successful job search a few years ago after a long career at my prior firm. From modernizing and updating my resume, to coaching me on interviewing and helping me navigate a challenging negotiation, Lisa's advice was both professional and pragmatic. Prior to starting my job search, when I was first considering making a move, Lisa provided concrete recommendations for actions I could take to lay the groundwork to improve my chances of success. (I highly recommend her blog post, "Pretend You Are Fired!" to everyone who wants to take proactive steps to manage their career!). Lisa is realistic and gives it to you straight – She will tell you where you have gaps, what you can do to close them, and when your "wants" don't align with reality. She doesn't rely on inflating your accomplishments, gimmicks or fancy resume formats. Instead, she uses proven techniques that align with contemporary applicant search processes to help your resume make it to the top of the pile. Most importantly, she brings clarity of thought to whatever situation you are facing and seems to know just the right thing to say to help put whatever it is in to perspective so that you can take action and move forward.
I have recommended Chameleon Resumes to many of my colleagues and will continue to do so without hesitation." – Heidi Grenek
Lisa Rangel Reviews: Successful Client LinkedIn Recommendations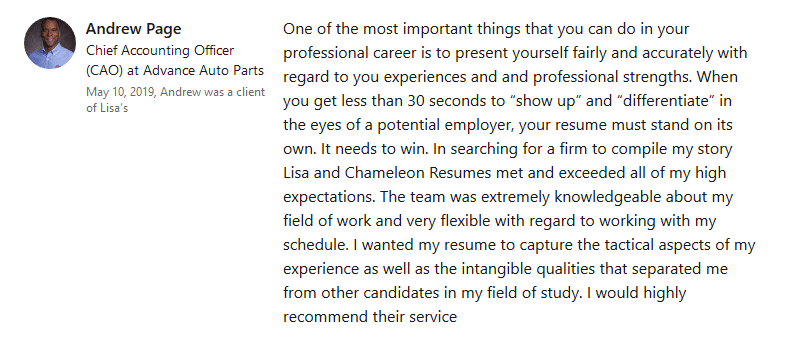 "One of the most important things that you can do in your professional career is to present yourself fairly and accurately with regard to you experiences and and professional strengths. When you get less than 30 seconds to "show up" and "differentiate" in the eyes of a potential employer, your resume must stand on its own. It needs to win. In searching for a firm to compile my story Lisa and Chameleon Resumes met and exceeded all of my high expectations. The team was extremely knowledgeable about my field of work and very flexible with regard to working with my schedule. I wanted my resume to capture the tactical aspects of my experience as well as the intangible qualities that separated me from other candidates in my field of study. I would highly recommend their service." – Andrew Page

"From personal experience I can attest that Lisa and her team bring something special, unique and real to preparing for and seeking new #career opportunities. It goes beyond #resume preparation, bringing insight and a personal approach. If you are looking for a partner to help you chart a new course that is centered on your individual needs and wants, connect with Lisa." – Melissa Sturno
"Lisa Rangel and her team of professionals did an excellent job helping me market myself to prospective employers and company partners. Shortly after her help, I received and accepted a partnership offer with a fortune 500 financial services firm. I've also referred her to my adult children when they were looking for a career move. I highly recommend Lisa and her team to anyone thinking of a career move." – David McCary
"I was fortunate enough to attend one of Lisa Rangel's webinars on how to create a branded resume, LinikedIn profile, and effective networking techniques. Using her team, coaching opportunities, and a strong positive attitude, 42 days later I landed the exact job I was searching for.
Lisa's team is, without question, one of the most professional teams I've had the pleasure to work with. I felt that they genuinely cared about my job search and were available during all my ups and downs. The process was very involved and detailed, but because of that, my resulting documentation was spot on. I had worked with Resume Writing firms in the past and I needed to do a bulk of the work. With Lisa and her team, I filled out a questionnaire, had some phone conversations, and BINGO… new resume, updated LinkedIn profile, and cover letters. But the best part… I got 1:1 coaching to help me through the entire job search process. My LinkedIn profile was so good, I saw a 70% profile view increase in the first week. I then noticed that my profile was found through LinkedIn searches had increased 110% over a three week period.
If you're conducting a job search or thinking about it… you MUST contact Lisa. Even if you just need some coaching or someone to review what you have, I can't think of anyone else to use but Chameleon Resumes." – John Villasenor
"Lisa is an expert in her field and a wonderful partner. She takes the time to get to know her client's needs and delivers results. Her services are custom tailored, not off the shelf. I highly recommend Lisa to anyone looking to improve their brand." – Candida Marques
Another version of this post appears here.
Lisa Rangel Reviews: Successful Client LinkedIn Recommendations
Lisa Rangel – Executive Resume Writing Services
Chameleon Resumes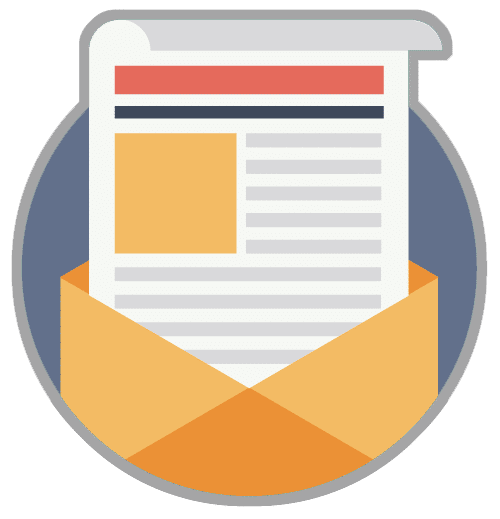 Landing your next job doesn't have to be an overwhelming, frustrating or time-sucking task. Get daily tips on how to find the position you deserve,  delivered right to your inbox:
The #1 addition every resume needs in 2023 and beyond.
How to get prepared for a job change even if you like the job you have.
How to handle a chaotic job market and where to focus your job-seeking efforts (hint, it's not the job boards).
Where to find great jobs without submitting 500 meaningless job applications.
How to slice through the Applicant Tracking System B.S. and land a 6- figure role you love.
How to track down the "unpublished job market" and have your pick of the best jobs out there.
How to write a resume that will hit hiring managers right between the eyes and have them scrambling to book your interview.
How to get up to speed with your online branding and write a LinkedIn profile that positions you as the #1 expert in your field.
How to approach job seeking with the "human touch" so you can keep the bots at bay.
And finally, access to our 4-stage META Job Landing system we've used with thousands of job seekers just like you.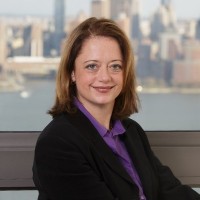 Lisa Rangel and The Chameleon Team are the only executive resume writing, LinkedIn profile development, and job landing consultancy who has been hired by LinkedIn and recognized by Forbes. Our 4-Stage META Job Landing System stems from decades of corporate and executive recruiting experience to position you to land your next 6 or 7-figure role faster.

Looking for an article on a particular topic? Use the search below...